My Story


Growing up, I quit the piano 4 times, quit the guitar 2 times, and also quit the drums and violin. Music was more like forced labor than anything else. "Fun" was the last word that came to mind.
The Night That Changed My Life

All of this changed for me when I attended a musical performance put on by two ukulele players and their sidekick bass player. Their music was simple, but these guys had FUN!
Finally Having Fun With Music!

It left such an impression on me that I went home that night and ordered my first ukulele. I discovered that learning ukulele chords was very easy, allowing me to quickly play the songs that I WANTED to play (as opposed to the piano songs that I was TOLD to play). I was actually having fun with music!
My Mission

After years of enjoying the simplicity of the ukulele, I wanted to show people who had given up on learning an instrument (like I had) how easy and fun it can be. Thus, Four Chord Simple was born!
The Four Chord Simple Songbook
Hundreds of Songs

My songbook includes the chords, lyrics, and strum patterns for every song that I teach on my channel.

Pain Free Learning

The songbook makes it easier to play along and learn songs since the whole song is visible on a single page.

Four Simple Chords

The only chords in my songbook are C, Am, F, and G! No need to endlessly search for songs that YOU can play!

Flexible Formats

You can print it out or use the auto-updating online version with new songs being added all the time!
Sing Along On Your Desktop...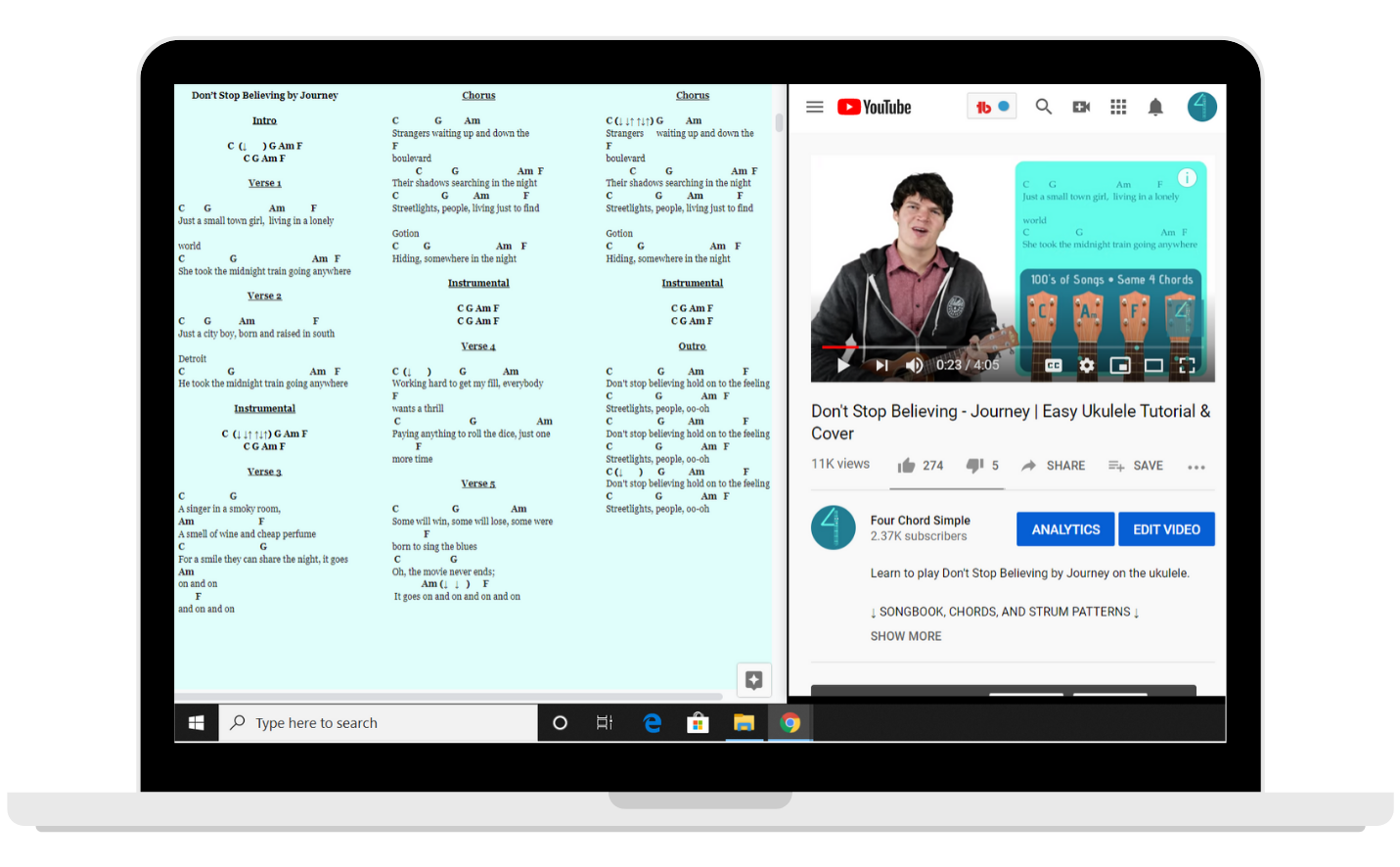 Or Mobile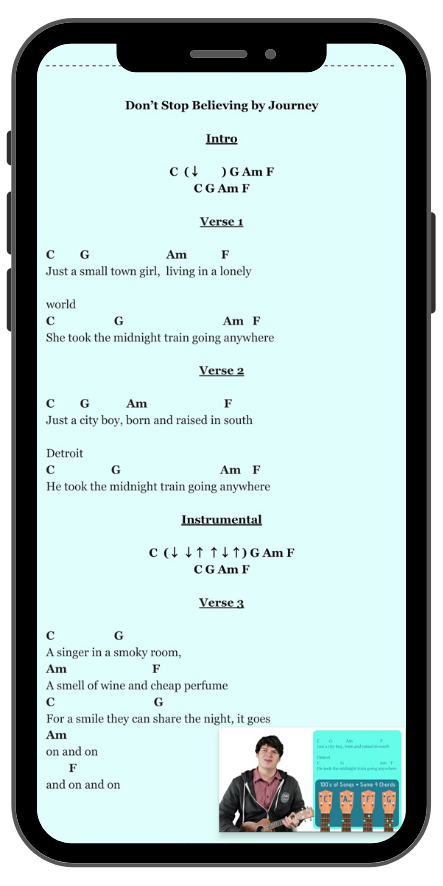 Hundreds of The Most Popular Songs
Counting Stars by OneRepublic | Pompeii by Bastille | Fireflies by Owl City | Don't Stop Believing by Journey | Viva La Vida by Coldplay | Feliz Navidad by Jose Feliciano | Let It Be by The Beatles | Good Riddance by Green Day | The Lion Sleeps Tonight by The Tokens | Don't Worry, Be Happy by Bobby McFerrin | I Walk the Line by Johnny Cash | Jumper by Third Eye Blind | Hey, Soul Sister by Train | Swing Low, Sweet Chariot by Josh Turner | Somewhere Over the Rainbow by IZ | Riptide by Vance Joy | House of Gold by Twenty One Pilots | Hallelujah by Rufus Wainwright | Simple Man by Leonard Skynyrd | Lean on Me by Bill Withers | Have You Ever Seen the Rain by Creedence Clearwater Revival | Little Talks by Monsters and Men | Rhythm of Love by Plain White T's | You Are My Sunshine by Johnny Cash | Have it All by Jason Mraz | Gone, Gone, Gone by Phillip Phillips | Something Just Like This by The Chainsmokers & Coldplay | Blowin' in the Wind by Bob Dylan | 1 2 3 4 by Plain White T's | If I had a Million Dollars by The Barenaked Ladies | Thunder by Imagine Dragons | Just the Way You Are by Bruno Mars | Landslide by Fleetwood Mac | Free Fallin' by Tom Petty | All About Us by He Is We & Owl City | Numb by Linkin Park | Wonderwall by Oasis | Photograph by Ed Sheeran | Wagon Wheel by Old Crow Medicine Show | Friday I'm in Love by The Cure | The Middle by Jimmy Eat World | Ob-La-Di, Ob-La-Da by The Beatles | King and Lionheart by Monsters and Men | Happier by Marshmello & Bastille | Puff the Magic Dragon by Peter, Paul, and Mary | Ho Hey by The Lumineers | Imagine by John Lennon | One Love / People Get Ready by Bob Marley & The Wailers | She Will Be Loved by Maroon 5 | Superman (It's Not Easy) by Five for Fighting | I'm a Believer by Smashmouth | What Makes You Beautiful by One Direction | Send Me on My Way by Rusted Root | Amazing Grace by Judy Collins | Broken by LovelyTheBand | The Boxer by Simon & Garfunkel | Don't Give Up On Me by Andy Grammer | Heart of Gold by Neil Young | Dirty Paws by Of Monsters and Men | Saturday Sun by Vance Joy | Deck the Halls | Jingle Bells | Up on the Housetop | Away in a Manger | Grandma Got Run Over by a Reindeer by Elmo and Patsy | Here Comes Santa Claus | Take Me Home, Country Roads by John Denver | Perfect by Ed Sheeran | Screen by Twenty One Pilots | Bad Moon Rising by Creedence Clearwater Revival | Leaving on a Jet Plane by John Denver | Treat You Better by Shawn Mendes | Someone You Loved by Lewis Capaldi | All of Me by John Legend | Hero by Enrique Iglesias | Hey There Delilah by Plain White T's | Yellow by Coldplay | The 59th Street Bridge Song (Feelin' Groovy) by Simon and Garfunkel | One Call Away by Charlie Puth | Mess is Mine by Vance Joy | Before You Go by Lewis Capaldi
More Than Your Typical Songbook
1. Finding The Right Songs

First, I have to search high and low to find songs that can be played with just C, G, Am, and F. In most cases, I have to transpose songs into the right key even just to figure out if they are compatible or not.

2. Ensuring Accuracy

Once I find a song that will work, I listen to the song to ensure the lyrics I've copied over are accurate. Often, the lyrics are inaccurate or incomplete, requiring careful edits.

3. Ensuring Alignment

Next I have to match up the chords with the lyrics, which is the most time consuming part of the process since the chords shift when being pasted over. Sometimes I have to make serious adjustments to inaccurate or incomplete chords.

4. Inserting Strum Patterns

Because I know that many of my followers want to strum along with me, I've taken the time to carefully type up the strum patterns I use and insert them into the lyrics and chords of each song.

5. Formatting

Finally, I adjust the formatting to be consistent throughout the songbook. I want it to look really nice and professional for you. I hope you enjoy it! 😊
Testimonials
I'm confident you are going to LOVE my songbook!
Alicyn

"Your song book has been an absolute staple with me learning the ukelele. Thank you for all you do!"

Jim

"I love the way you've taken so many songs and made them easy for people like me who do not have a lot of time to practice."

Allyson

"I really like the book! It is easy to use and the songs are easy to follow. Thank you for making it!"

Andrew

"The songbook is a really useful accompaniment to your excellent videos. Thank you for the hard work in producing your great guidance. Keep up the good work!"

Matthew

"Honestly, I'm pretty pleased with how well it is put together. Much better than most of the stuff you see on ukulele-tabs.com"

Dorathy

"I found the songbook really helpful and it motivates me to learn more as there are so many songs in it. Thank you for creating it!"

Katy

"I've already learned so much through your YouTube channel and I've found your songbook so easy to follow so thank you very much for putting it together."

Raquel

"I have been only learning to play the ukelele for two months, and your videos really helped me, that's why I decided to download your songbook! The thing I like the most is probably that I can see the strumming pattern, because it is with what I struggle the most. I love most of the songs that are in the book!"

Gina

"My daughter, Tabitha, is loving it! The book is exactly what she was looking for – plenty of songs she recognizes, using chords she can already play. Thank you for putting this together."
Your Support is Greatly Appreciated!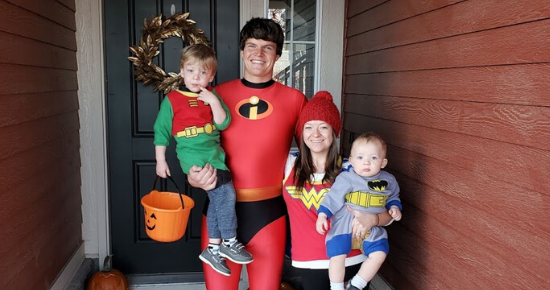 The suggested donation for my songbook is $10, but you can certainly pay more or less than that. Think of it like sending me a tip, whatever you can afford is more than appreciated.

I'm hopeful that Four Chord Simple can one day provide the income necessary to support my growing family, giving me the freedom to spend more time with my two cute little boys.

Unfortunately YouTube doesn't pay much for my videos, especially because all of them are cover videos, which means much of the ad revenue goes to the song's copyright owner instead of me.

Other YouTuber's use Patreon to encourage donations, but I wanted to do something different that would provide you with a valuable resource without you having to commit to a monthly donation.

In this way, I'm hopeful that the songbook will be of great benefit to you while supporting my family and supporting my mission to make learning the ukulele fun and easy.

Thank you for supporting me! I hope you enjoy my songbook!

Your ukulele pal,

Andrew